One young baseball player set out to determine if hypnosis really works to improve sports performance, and the results are in with a resounding YES!
With controls in place – one subject (himself), one baseball bat, equal number of turns at bat, and one certified hypnotist (Laura King) – and careful monitoring of the results, he found that hypnosis did indeed improve his On-Base Percentage (OBP) by 15.5% in 18 consecutive games with a total of 36 turns at bat!
He concluded that other athletes, professional or amateur, would benefit from hypnosis with a certified hypnotist.
Whether they are professional or amateurs, these athletes use hypnosis to gain the mental edge on their opponents.  In today's world hypnosis can be used in many ways.  An athlete can improve his or her performance.  A patient can maximize the healing process and control the pain after surgery. A smoker can be hypnotized to quit smoking. With this knowledge, hypnosis can improve our life and performance in many ways.
Beau – 12-Year-Old Baseball Player & Researcher
He is one smart kid! See his report here.  If you are an athlete who wants to improve your mental edge, try these self-hypnosis CDs or MP3s for Baseball, Golf, Tennis, Track, Swimming, Football, Soccer, Basketball or other sports, Cheerleading and even Motocross!
Or call for personal sessions with one of our Certified Sports Hypnotists – 561.841.7603. We offer appointments in person, by phone or Skype.
Our young athlete did three personal sessions (either in person and telephone) with Laura King, as well as listening to Improve Your Baseball Skills three times, before each of three tournaments.
Are you as smart as a 12-year-old? If you are and you want to improve your sports performance, call 561.841.7603 today for an appointment today.
Look at this kid concentrate! His total focus is on the ball…  AND IT'S OUT OF THE PARK!!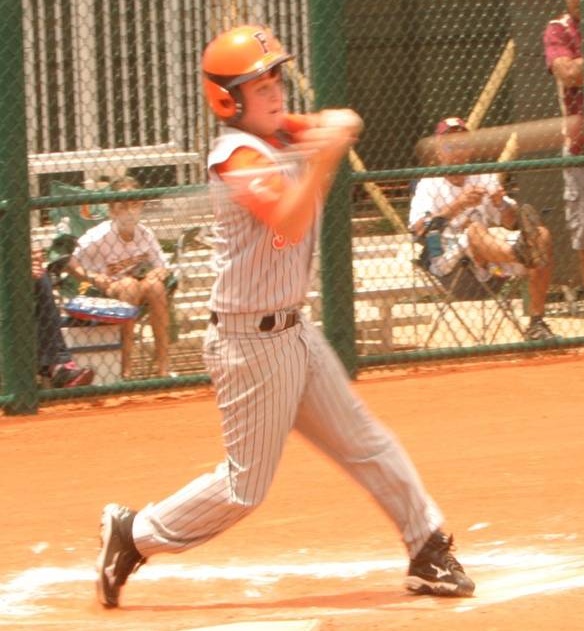 January 11, 2013